2-Channel Particle Counter
Real Time Monitoring in critical areas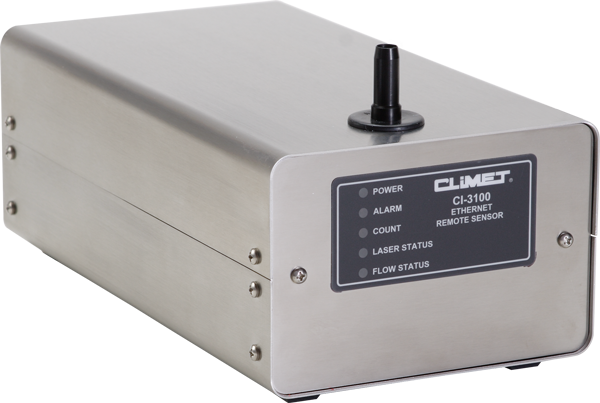 Contact us to learn more about the
CLiMET

CI3100-OPT 2-Channel Particle Counter
2-Channel Particle Counter
The CI-3100 OPT Series is a 2-channel particle counter used in continuous monitoring applications in a variety of industries – generally Grade A or B (ISO 5) clean zones.
The CI-3100 OPT has a choice of standard data interface options including RS-485 Modbus, 4-20 mA outputs, or Ethernet (TCP/IP); and contains an internal power supply and vacuum pump eliminating the need for an external air source.
Standard particle sizes are 0.5 µm and 5.0 µm, custom sizes are also available. Designed for fixed continuous monitoring deployment, the CI-3100 OPT offers a standard flow rate of 1 CFM, and some models are offered in an alternatively lower 0.1 CFM flow rate (Call for details).
On/Off functionality is remotely controlled via software, and additionally, the CI-3100 OPT is VHP compatible ensuring easy cleaning and sanitation.
Experts in industrial instrumentation manufacturing, each new instrument design is "drop and vibration" tested to ensure end-users can expect up to a decade (and beyond) of reliable operation. This level of ruggedized testing is unique among other manufacturers, and ensures that accidents don't turn into capital appropriation requests or expensive repair bills.
2-Channel Particle Counter
Electronic, automatic closed loop (please contact us for other flow requirements)

2 channels 0.5/5 μm (please contact us for other size requirements)

Optimal balance of long life, stability and resolution for added accuracy

Compatible with common cleaning and sterilization procedures, including VHP

Power efficient internal vacuum source (OPT models only)

Zero count filter, product manual, and external exhaust fitting (on select models)

Other Available Accessories

Stainless steel isokinetic probes, tubing, light blocking isokinetic probes, probe stands, high pressure diffusers, alarm tower, software, validation documentation, customized cabling and other accessories sold separately.

Power, Alarm, Count, Laser Status, and Flow Status

Operating temperature: 0-36⁰ C, 32-97⁰ F Dimensions: 6" (W) x 4" (H) x 11.5" (D) (15.24 cm x 10.16 cm x 29.21 cm) 0-90% relative humidity, non-condensing

ISO 21501-4; ISO 14644-1; EU GMP, Annex 1; and FDA 21 CFR Part 11
Learn more about the
CLiMET

CI3100-OPT
Leave your email address, we will write you back