21 CFR Part 11 Data & User Integrity Compliant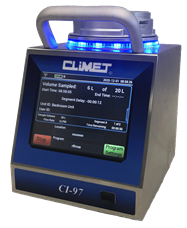 Contact us to learn more about the
CLiMET

CI-97 Microbial sampler
The CI-97 is a high efficiency microbial air sampler that's suitable for cleanrooms and aseptic environments. It is fully compliant with 21 CFR Part 11, and has many advanced data integrity features. These include: username and password login; 50,000 onboard sample memory buffer; User Audit Trail (pdf); audit reporting; sample abort reporting; User Authenticator™ (Active Directory Login); and more. The CI-97 is drop and vibration tested, certified to ISTA Procedure 3a, and afterwards passed its calibration.
Pharmaceutical and industrial grade, the enclosure is 100% stainless steel that weighs only 7 lbs.
The CI-97 has an internal HEPA filtered exhaust, and incorporates an internal hot-wire anemometer that automatically adjusts flow rate ensuring the CI-97 is always within calibration. Combined with Climet's unique light ring, an audible alarm, and sample termination virtually eliminates the risk of deviation reports and investigations caused by interval calibration out-of-tolerance conditions.
A capacitive touch screen allows users to run GMP metadata reports, view pdf audit reports, and provides pinch-to-zoom and scroll capabilities. The screen operates normally when used with a double-gloved hand.
| | |
| --- | --- |
| | Sample Flow Rate: 100 LPM Flow Control: Electronic, automatic closed loop HEPA Filtered Exhaust: YES, and certified to ISO Class 3 Cleaning: Compatible with common cleaning and sterilization procedures. Recommend quarterly VHP while engaged Display: Capacitive (cell phone-type) touch screen with pinch-to-zoom and scroll capabilities Sample Control: Continuous sample or variable duty cycle to cover extended monitoring Network Time Server: Yes, compatible. ALCOA: ensures contemporaneous reporting |
| | Unit ID: User Selectable Sample Programming: 300 Programs, 300 User IDs & 1,000 Location IDs (factory expandable) Security: 5 user access levels Sample Volumes: 1 liter increments, with 10 liter minimum (1m3 = 1,000 liters) Calibration: Calibration Lockout (user enabled) Programmable Delay: 5 second minimum (user programmable) Secure Sample Control: User enabled. Prevents sample from termination Altitude Compensation: Yes, user input Unit-to-Unit Cloning: Yes |
| | Onboard sample memory buffer 50,000 samples |
| | Data Interface: RS-232 via RJ-12 jack; Wired Ethernet RJ-45, USB (2-ports) * Sample Data: Date, Time, Flow Rate, Unit ID, User ID, Location ID, Sample Volume, Sample Duration, and Alarm Status. Sample Abort Reporting: Yes User Audit Trail: Yes PDF Reports: ISO reports, audit logs, stored data, program settings, and User Audit Trail All sample data is made in *.CSV format, with a CRC Checksum to mitigate data manipulation/corruption. End-to-End data integrity with Lonza MODA. No additional software needed to export sample data. |
| | Flow Rate: Light Ring, internal audible alarm, and sample termination +/-5% of nominal flow rate in compliance with ISO 21501-4:2018. Low Battery indicator: If battery charge is insufficient to run a sample, an error message will appear. |
| | Your choice of lightweight aluminum, or stainless steel sample heads 100 LPM with standard 90 mm petri dish @ 333 holes at a 0.57 mm Theoretical d50 = 1.08 µm with an experimental d50 = ~0.3 µm Both sampling heads are autoclavable @ 134o C for 20 minutes |
| | Lithium-ion rechargeable battery. Battery Operation of 8 hours (typical), and 6 hours continuous sampling. Battery Recharge time of 3.5-4 hours. Wall Power is Universal 100-240 VAC Input |
| | 8.526"(H) x 6.5" (W) x 8.44"(L) (22.43 cm x 16.51 cm x 21.44 cm) Weight with battery installed and aluminum sample head 7 lbs. |
| | Temperature: 0-36⁰C operational 0-90% relative humidity, non-condensing |
| | Included: Battery (interchangeable with CI-x70), power supply with cord, aluminum sample head, aluminum sample head dust cap, validation document, IQ/OQ Docs, USB flash drive, Climet lanyard, and quick start guide, universal tripod mount, petri dish cover holder, user manual. Optional: Stainless steel sample head, remote sampling and compressed gas accessories, and hard shell carrying case. |
Learn more about the
CLiMET

CI-97 Microbial sampler
Leave your email address, we will write you back